Letra de la Calle (Street Lyrics)
2022


Multimedia indoor and outdoor / public installation exhibited in Buenos Aires, Argentina, following a one-month residency at Proyecto 'Ace, April 2022.

Weeeeeeeee
They eat it
They chew it
The white ice
The wet mice
Tie the team
Beat the heat
Bed heat
Debt beat
Ewe meat
U me
Tu y
Che
Bite me
Cite me
Meme it
Hit it
It wit
It huit bit
Weetbic
Hey
Ce mec
He twee
We he
Tee hee hee
Heeeeeeee

Paso 1: bien comunicada
(Step 1: well connected / communicated)

Referencing concrete poetry and the Situationists' Dérive as a jumping-off point, the video and installation work Street Lyrics explores abstract notions of the street and language, the familiar and the unfamiliar.

It's a playful, personal response to the unique urban environment of Buenos Aires.

The street is often a habitual mechanism, a well-trodden linear route from 'A' to 'B' (like stubborn cerebral pathways). A logical, alphabetic system of succession, traversed automatically and repetitively in everyday life. Yet the street, like language, is also an abstract, chaotic, magical space of random exchange, offering infinite possibilities. Traveling to somewhere unfamiliar is a way to de-rail our day-to-day repetitions of both street and language, reminding us that both the street and language are active worlds, living entities, in constant states of change and evolution.

As we go from A to B in daily life, pathways of experience connect us and surrounding matter. We leave invisible woven jet streams over time and space, building up rich tapestries of memory in the ecology of the street and in our bodily memories. Las veredas (the pavement and footpaths), also record traces over time, storing memories fastidiously as cracks, scuffs, residue, and discolouration. They slowly wear down and decay, destined to eventually be updated or replaced. Like language, the street is alive with relational meaning, loaded with signs, symbols, history and politics.

Paso 2: la calle me habla
(Step 2: the street talks to me)

The work emerged by exploring the city of Buenos Aires on foot, absorbing, observing and thinking as I went. Walking over 70km in the first week of the residency, I set destinations in unfamiliar areas to carry out everyday, mundane tasks, taking routes which piqued my interest in the moment. The walks and conceptual parameters were influenced by the midtwentieth century practices of the Situationist International movement (the dérive and psychogeography).

From the first day, I was drawn to discarded metal shapes on the street, unwanted machine offcuts. Aesthetically scattered on the pavement like poetry, claves, clues.

Worthless treasures waiting to be interpreted. Quietly asking to be reassembled, scrambled, scrabbled... Como la calle me habla! Taking a playful approach (and having realised with delight that the metal offcuts are ubiquitous and familiar to Porteños / locals of Buenos Aires), I developed videos by building an extemporaneous poem out of 11 metal shapes, from which I could form 12 makeshift letters.

I used mainly English and borrowed from the other languages insistently chattering in my head: Spanish, local Rioplantense, which I'd heard on the street, and French. The abstract assemblage of words follows an irregular yet rhythmic flow and a slow, pedestrian pace. The distinctive veredas of Buenos Aires provide the centre stage for this dialogue with the calle.

Paso 3 (Step 3): calle-to-action

The posters echo the material forms in the videos while calling upon the vernacular of street publicity. The photos of the veredas were taken while walking, some accidentally, some impulsively and without a particular intention. Pasted as an indoor installation and out on the street, the posters may appear to advertise something by following the logic of sharing details of a service. But there is no commercial purpose, no contact details, no call-to-action or social media handle. They repeat the abstract poem lines from the videos with the same metal letterforms, offering tabs to be torn off and kept. Somewhat opaque, they evade accepted systems and expectations. They propose possibilities of confusion, annoyance, pointlessness, mistranslation and misunderstanding (a passer-by was overheard saying they were about the council repairing the footpaths). Yet also of imagination, open interpretation, connections and random exchange, not conforming to the linear A to B logic of language and the calle.

A familiar public language with unfamiliar intentions. A playfully open proposition which carries no expectation of return. Sólo letras ensambladas con la música de la calle (Just lyrics / letters assembled to the music of the street).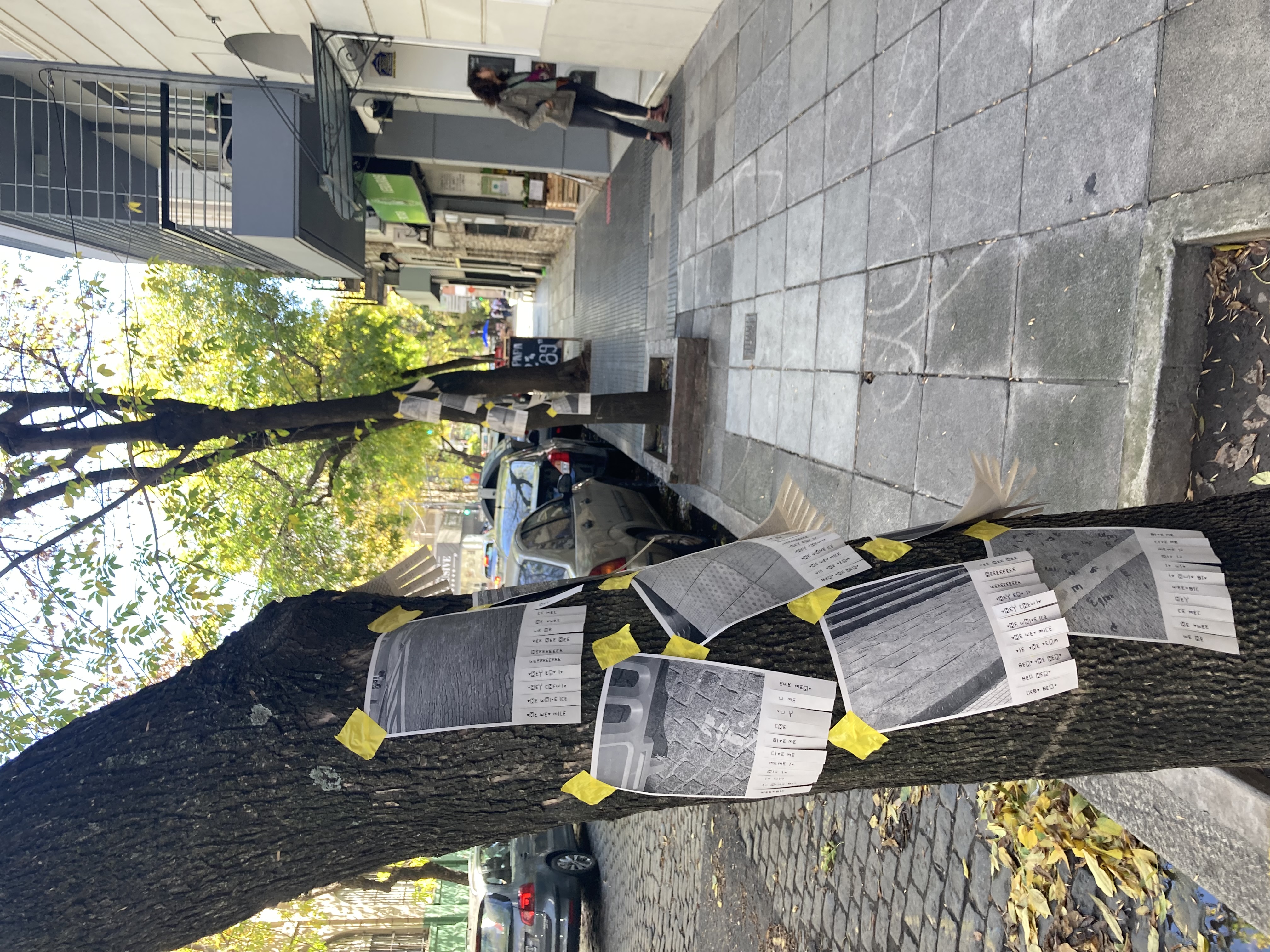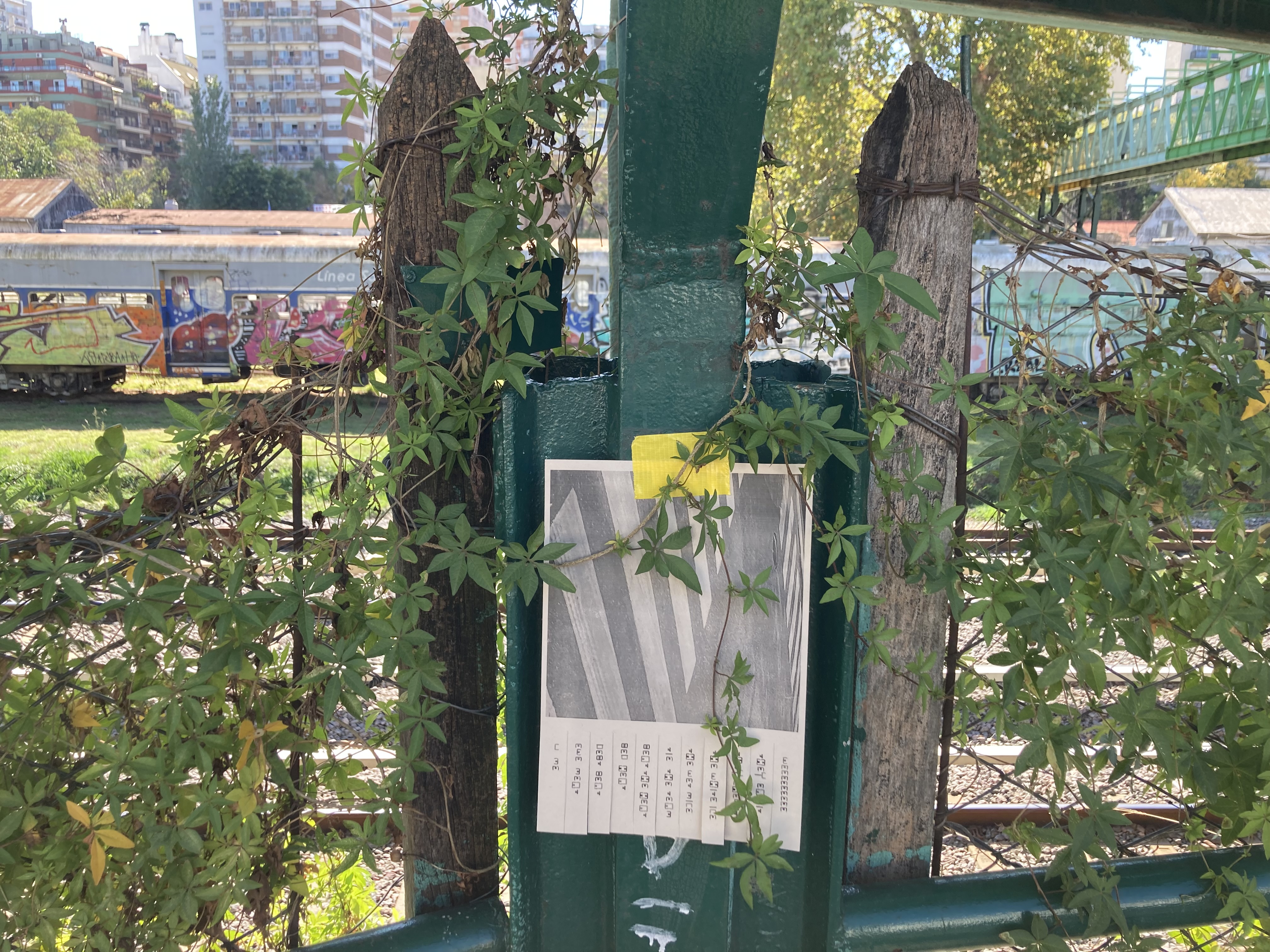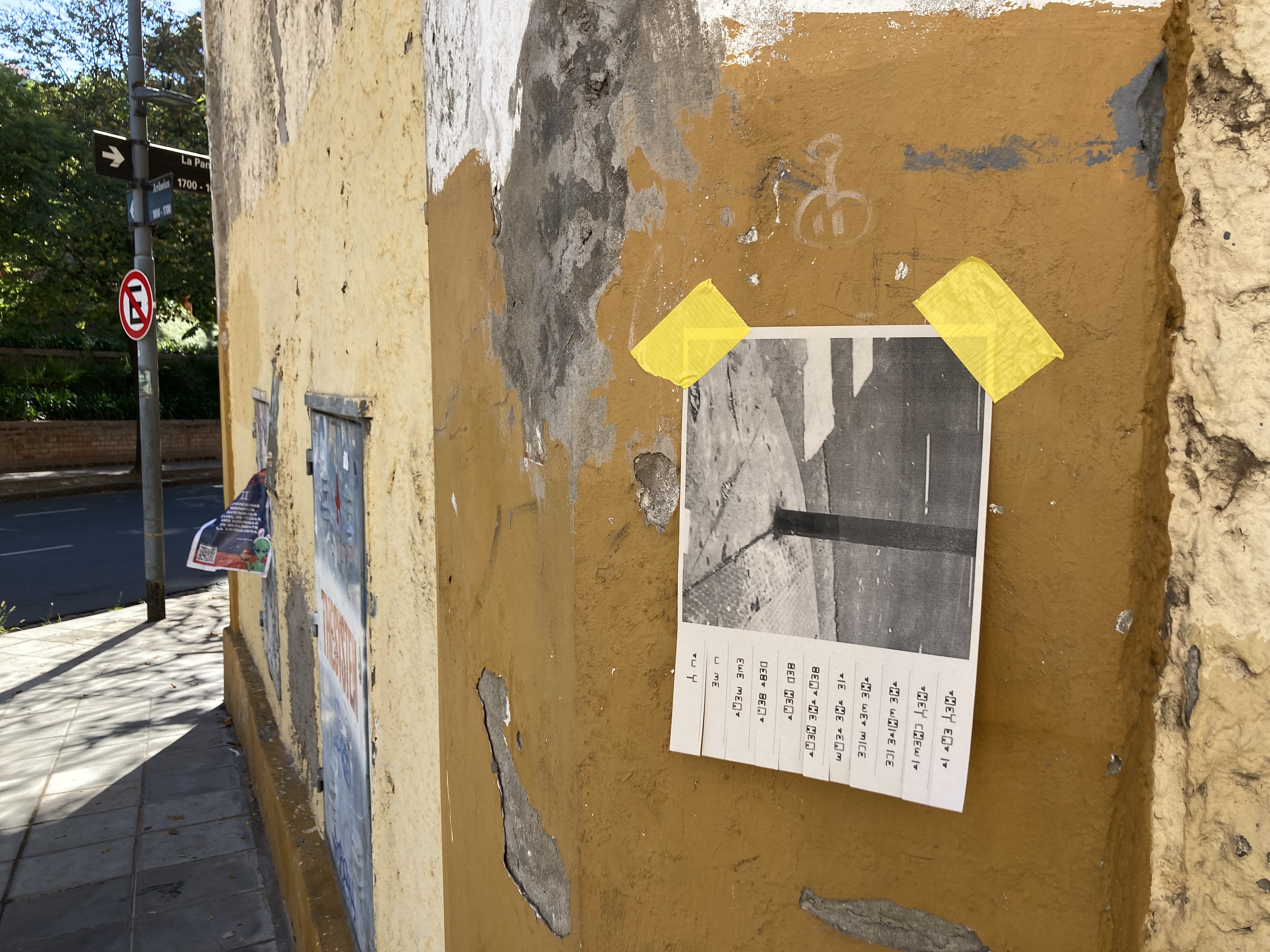 Outdoor poster installation, across various areas in Buenos Aires, 2022
Indoor video projection and poster installation, Proyecto 'Ace, Buenos Aires, 2022